TAFSEER IMDAD-UL-KARAM – PART 3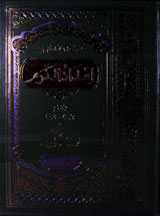 Name:
TAFSEER IMDAD-UL-KARAM – PART 3
Name:

امدادُالکرم ۳

Author:
Muhammad Imdad Huseen محمد امداد حسین

Language:

Urdu

Publisher:

Al-Karam Publications

Publish Date:

08-Jul-2013

Description:
Download PDF TAFSEER IMDAD-UL-KARAM – PART – 3
TAFSEER IMDAD-UL-KARAM – PART 3
In 1963, at the age 21, he was sent to Cairo in Egypt to study at the famous Al Azhar University. He studied Tafseer of the Holy Qur'an and Ahadith for 3 years at this Islamic University. It has been stated that even as a child, he was very intelligent, a person of great wisdom and he possessed an excellent memory. While studying at the Al Azhar University, teachers and students were surprised when he conversed with them in superior Arabic. When he spoke to them, they would often look stunned at his mastery over the Arabic language.
The examinations conducted at Al Azhar University are mostly done in writing, however, the general knowledge sections were tested orally.
It is stated that when the students were asked general knowledge questions by the examiner, none of them were able to answer these questions.
The examiner used to then direct these questions to Mufti Mohammed Akhtar Raza Khan. He used to reply to each question in such an intelligent manner that it often surprised the examiner. When the examiner questioned him on how he managed to answer intricate questions on the topic of Ilm-e-Kalam (Knowledge of Imaan), even though he was only studying Ahadith and the principles of Ahadith, he used to reply, "I studied this subject while I was still a student at Darul Uloom Manzare Islam."
He also used to achieve the first position during every examination. His studies continued at the Al Azhar University and he began achieving more success in the academic field as the days passed. He achieved the distinction of being one of the best foreign students to have studied at Al Azhar University.
Even till this day, ex-students of the Al Azhar University still remember him is this fashion.
In one famous monthly magazine, this distinction was echoed in the following words: "The grandson of Huzoor Hujjatul Islam, Mawlana Haamid Raza Khan and the son of Jilani Mia, Hadrat Ibrahim Raza Khan graduated with a B.A. degree in Arabic in a most worthy and excellent manner. HIS EMINENCE DID NOT ONLY COME FIRST WITHIN THE CONFINES OF THE AL AZHAR UNIVERSITY BUT ALSO FIRST IN THE WHOLE OF CAIRO. May Allah grant him more success, make him worthy of propagation, and may be known as the true Successor of A'la Hadrat."
Upon graduating from the Al Azhar University, Allama Akhtar Raza Khan was awarded the Jamia Azhar Award by Colonel Jamaal Abdul Nassir. He was also presented with a Certificate of Merit in the field of Ahadith. After graduating and receiving the Al Azhar Award, he returned home to continue his Islamic mission.
tafseer imdad-ul-karam english
tafseer imdad-ul-karam english pdf